Application Period
July 13 - August 7, 2020
Team Eligibility
1. Participants must be full-time undergraduate students from public or private colleges and universities in Thailand , or full-time undergraduate students from colleges and universities overseas holding a Thai passport.
2. A team must consist of 4 students
3. A participant must not be a member of more than one team
4. The finalists of the Challenger 2016 onwards and participants of TUBC are not eligible to apply for the Challenger 2020.
Registration Process
1. Deposit THB 200 registration fee to Bank account below (preferably via mobile banking).
1.1 The bank account name is "นายโดม ปริณากุล และ น.ส.ชนากานต์ วานิชพงษ์พันธุ์ เพื่อ The Challenger 2020" account number 678-9-09574-8,
account type 'saving', Krungthai Bank, Thammasat University Thaprachan campus branch.
1.2 Please add your mobile phone number in the memo for reference when transferring the fee to us
2. Fill in the online registration form and upload a photo of the payment slip in the registration form in the website www.tubc.org
3. Wait for the welcoming email and be a part of The Challenger 2020 by TUBC, the process can take up to 3 business days.
3.1 The welcoming email will be sent at the latest on August 8, 2020.
3.2 If you do not received an email from us after 3 days of your registration date or after August 8, 2020. Please contact us via private message
at our facebook page: The Challenger by TUBC


Payment Slip Example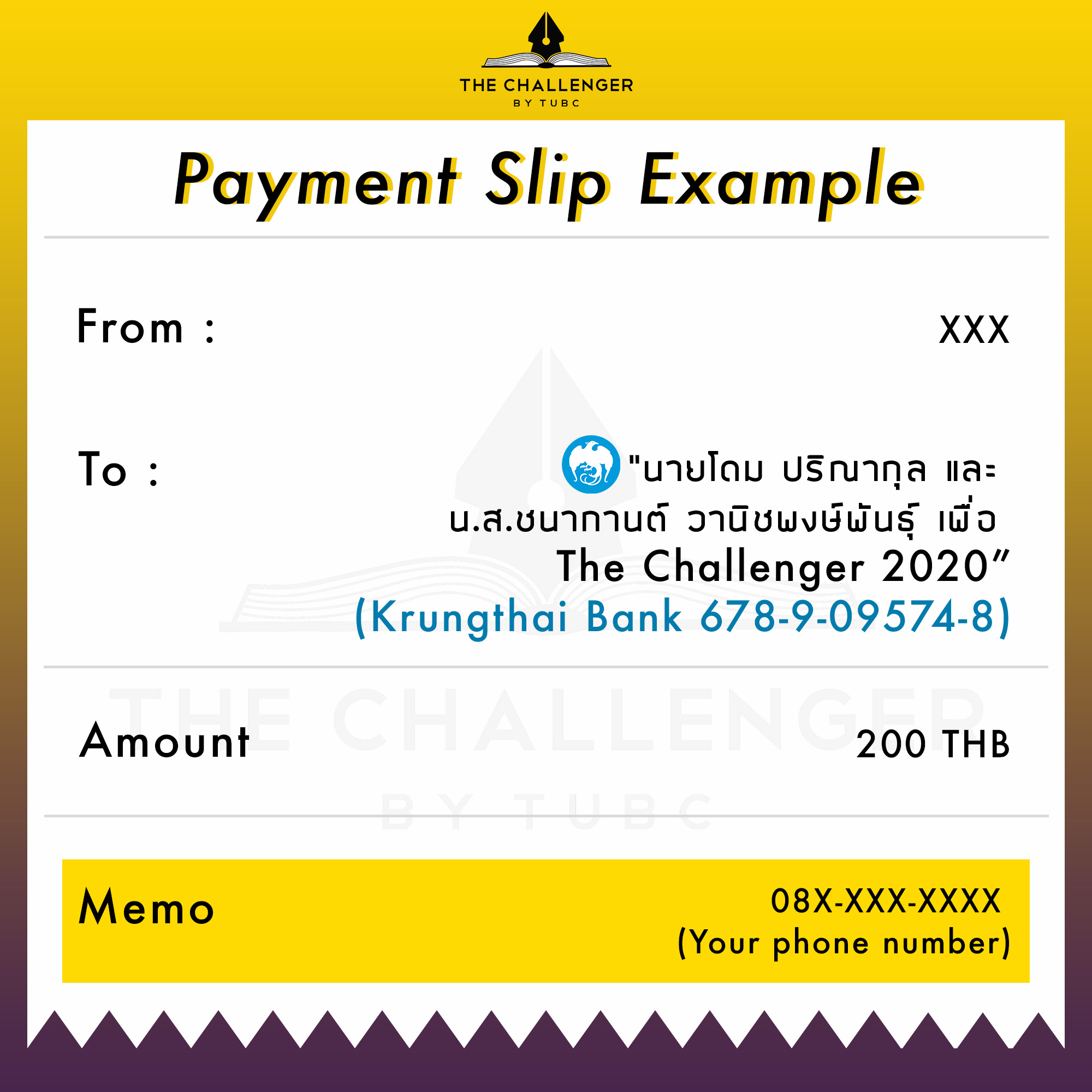 NOTE: We recommend that you have a stable internet connection throughout the registration process to prevent any possible error caused by connection loss.
Please make sure that every member meets the eligibility requirements, the committee will not return the application fee if you are not eligible for the competition